Dr. Brett Gaby graduated from Cornell University in 1992. Following graduation he spent 2 years in immunological research at the Cornell College of Veterinary Medicine, under lead investigator Neil Norcross (collaborator on the Coggins test developed at Cornell). During this time Dr. Gaby was competing at the national level in rowing. He was sponsored by the New York Athletic Club with whom he won several championships including national titles.
In 1994 he moved to Dublin Ireland to study veterinary sciences at the University College Dublin. While there he carried first class honors throughout the curriculum and obtained a useful equine foundation. After returning to the United States, Dr. Gaby attended the Mississippi State College of Veterinary Medicine and graduated in 1999. He was awarded honors in the clinical pathological sciences from the college. He completed an internship at the Rochester Equine Clinic and was employed by Boston Equine Associates for nearly four years before starting his own practice in 2003. He specializes in lameness diagnosis and treatment.
Dr.Gaby is married to Dr. Amy Clark, also in the practice, and has two daughters. He is occasionally seen riding his horse Summer but has also been known to return to the water to row.
Dr. Amy Clark graduated with her Doctor of Veterinary Medicine degree in 2005 from Atlantic Veterinary College in Prince Edward Island Canada. Amy is a native of New Brunswick Canada and began her career with Essex Equine upon graduating. She completed her acupuncture training in 2011 through Colorado Veterinary Medical Association Medical Acupuncture for Veterinarians program and her certification for equine spinal manipulation with Pasteur Equine Learning Institute in Ocala, Florida in 2014. Dr Clark applies her skills practicing general medicine, lameness and reproduction, with an interest in adding integrative medicine. In her spare time she enjoys activities with her two children and tries to find time to ride her own horses.
Dr. Lisa Bethune grew up in the hunt country of Northern Virginia. She got her first pony when she was in first grade (best Christmas present ever!) and showed that pony in local horse shows from Short Stirrup through Pony Hunters. She was also active in the 4-H horse club growing up and was on the National Horse Judging Team for 2 years in a row. Lisa continued to ride competitively in the hunter/jumpers through high school and college. She went to Sweet Briar College in central Virginia where she was a member of the IHSA team and was a student riding instructor.
After college, Lisa attended graduate school at the University of Maryland, earning a Master's of Public Health degree in Epidemiology, before making the trek up north to attend veterinary school at Tufts. Upon graduation from vet school, she completed a year-long internship at Rhinebeck Equine in Rhinebeck, New York where she gained extensive experience handling hospital cases, running anesthesia, and going out on ambulatory calls.
Following her internship, she worked at an equine practice outside of Saratoga Springs that specializes in dentistry and sports medicine. Dr. Bethune is excited to return to the Boston area and join Essex Equine in May 2017. In her free time, she enjoys spending time outside, from hiking in the mountains to kayaking along a river.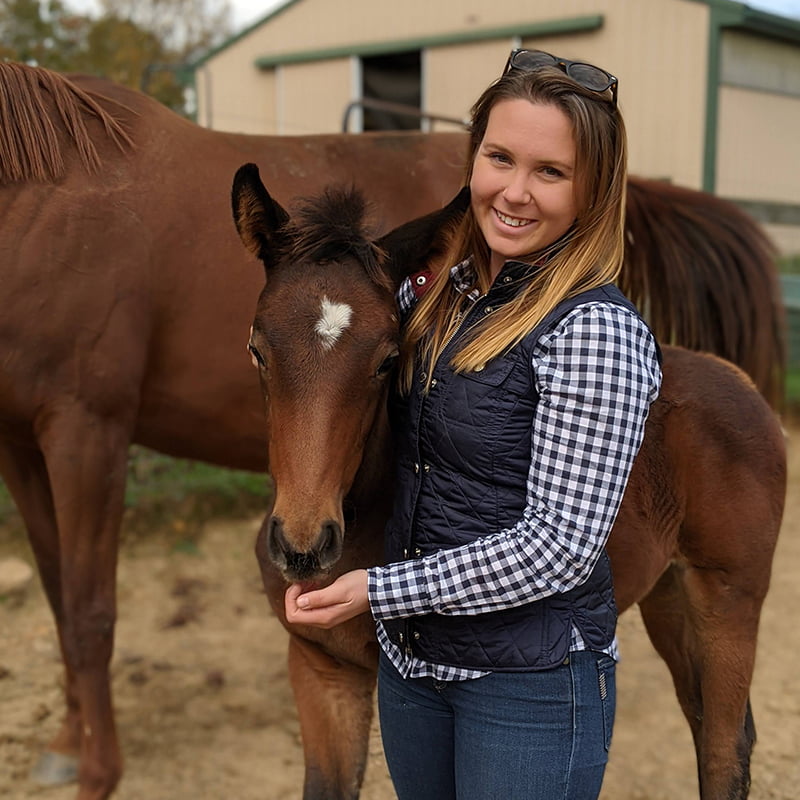 Dr. Kendall Milkey
Veterinarian
Kendall was born and raised in southern New Hampshire where she competed on the hunter/jumper circuit. She obtained her bachelor's degree from the University of New Hampshire. She is a recent graduate from the University of Pennsylvania School of Veterinary Medicine where she received awards in Theriogenology and Patient Care. Her clinical interests include lameness, diagnostic imaging and reproduction. In her spare time Kendall enjoys hiking and riding her horse.
Dr. Alexandra "Cate" Crowley
Veterinarian
Cate is a Massachusetts native and grew up working around horses on farms in Berkshire County and cattle ranches in Australia. She attended Maine College of Art in Portland, where she received a Bachelor of Fine Arts in photography. She spent quite few years running a small gallery and design studio in Great Barrington, Massachusetts before making the move out to Illinois to attend veterinary school. Cate has experience in equine veterinary medicine as well as small animal emergency medicine, and her professional interests include emergency medicine, ophthalmology, and neonatal medicine, with a soft spot for geriatric care and donkeys. Outside of work Cate enjoys hiking with her bloodhound Becks, working in her studio, going to art museums, and gardening.
Jenn graduated from Johnson & Wales University in 2005 with a bachelor's degree in Equine Business Management and Riding. She worked as a barn manager for 3 years before joining Essex Equine in 2008. Jenn has been instrumental in growing the practice and is well-known to the majority of our clients. She enjoys teaching and practicing yoga at her yoga studio, Leominster Yoga Center, and spends her free time hiking with her Cattle Dog, Callie.
Meaghan Dwyer
Head of Inpatient Care and Barn Manager
Meaghan began riding in Chelmsford, MA at 7 years old and immediately knew this was the road she would travel into and through adulthood. When she turned 10, Meaghan received her first horse, Prince. She worked as a barn hand and sought out knowledge, assisting Dr. Gaby whenever possible. She competed in IEA throughout high school and was the captain of her team in her junior and senior year. As a junior Meaghan competed in the Big Eq as well as the jumpers.
In her amateur years she continued showing jumpers but also enjoyed riding dressage with her mother. Her passion has always been working with young or untrained horses to build their confidence and skill as show horses. She is best known for her ability to train ponies, and her petite build has allowed her love of ponies to continue far past her childhood years. Most recently, Meaghan was the barn/business manager for a 47-horse show facility, where her charges received top-notch care.
Meaghan went through the life-changing event of requiring a kidney transplant. Although most transplant patients are advised to steer clear of farm environments, it was the need for equine contact and their reciprocated compassion that transformed her life to what it is today. In her free time, she enjoys pampering and caring for her mother's 31-year-old, retired dressage horse!
Ryan graduated from Mount Ida College in 2010 with a Bachelor's of Science in Veterinary Technology. While in school, he was a kennel manager, worked at local small animal ER, was Vice President of the SCNAVTA, and was a teaching assistant. He completed internships with New England Equine Medical and Surgical Center, Tufts University Hospital for Large Animals, and the teaching farm at Tufts, as well as contributing writing a reproduction chapter in "Veterinary Technician's Large Animal Daily Reference Guide;" published by Wiley Blackwell. After graduating, he worked as the assistant manager at a large eventing barn in Groton MA for 4 years before joining Essex Equine in 2015. Ryan enjoys hunting, fishing, kayaking, and anything outdoors.
Lisa Schiavone
Lead Veterinary Technician
Lisa began riding in Lexington, MA at 9 years old. When she turned 16 she rescued her first horse, a Standardbred named Ricochet. She competed in IEA throughout high school and was the captain of her team in her senior year. Lisa attended UMass Dartmouth and graduated with a B.S. in Small Business Management/ Entrepreneurship. Throughout college she worked at several different hunter/jumper farms and obtained her Horseback riding Instructors license. She worked at Northgate Farm in Sudbury as an instructor and farm manager until it's sale in 2018. She then became a member of the Essex Equine team as a Vet Tech for Dr. Bethune in the summer of 2018. In her free time Lisa enjoys kayaking, traveling, and converting her school bus into a camper.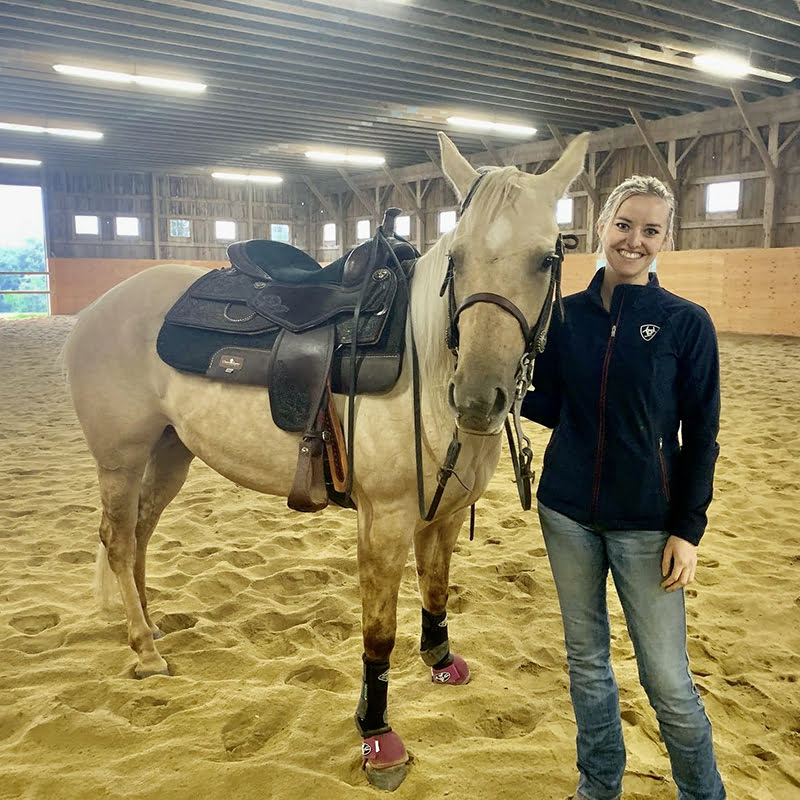 Ally Govoni
Veterinary Technician
Ally began riding as a young girl and never looked back! Horses have been apart of every aspect of her life since. Ally grew up riding eventing horses until she found her love for reining. Attending college at Colorado State University, Ally continued to pursue her passion for horses and studied Equine Science. Being out in the west, it opened up lots of new opportunities for Ally that she had never dreamed of. After becoming the Breeding Assistant Manager at a 300,000 acre working cattle ranch in Wyoming, Ally's natural talent for breeding and working with babies began to shine! After 5 very successful years caring for 80+ horses on the ranch and foaling out 30+ mares a year, she made the decision to start the road to becoming a vet.
Leading her back to the east coast of home, she continued her reining career and now has two quarter horses, Marilyn and Slim. You will almost always find Ally with her adorable Australian Shepherd named Wyatt around the barn and out in the field.
Cathy Hooper
Office and Laboratory Assistant
Cathy has been in the horse industry for over 30 years. She is married with a dog named Lolly, two children, a grand-dog Sam and lives in Bedford MA. She has been working part time at Essex Equine since 2007. "I am thrilled to be working in a practice with such skilled and intelligent people. There is always something to learn!"
Carolyn Halfpenny
Billing Specialist
Carolyn began riding with her aunt in Berlin at a young age and continued growing as an equestrian after her parents leased and then purchased her horse in 2003. She enjoyed showing her horse in local 4-H, hunter, and later dressage shows through high school and into college. While attending Worcester State University, Carolyn managed a barn and enjoyed teaching the next generation of young riders. Carolyn graduated from Worcester State with a bachelor's degree in Psychology and after taking a short hiatus from the horse world, is happy to be back in the saddle at Essex Equine!
Kariel Swanfeldt-Yacino
Billing Specialist
Kariel had her first horseback riding lesson at age 5 and caught the "horse bug" immediately. She started competing in dressage at the early age of 9 on her Arabian named Fascination. At age 12 her parents bought a draft cross foal so that Kariel and Vegas could grow up together. Vegas is now 17 and Kariel's pride and joy! They competed up to second level dressage, but Kariel realized that dressage wasn't quite Vegas' thing. They switched to western and now just enjoy pleasure riding. In 2017 Kariel was gifted her newest horse Scotch, the sweetest quarter horse on the planet! Scotch is an ex rainier and now is just Vegas' personal best friend!
Kariel has worked and managed different barns thought New England and Florida. Along with grooming for some top riders all over the country. Coming married almost 4 years to her husband Scot, Kariel has decided to take a job that keeps her close to the horses but also close to home to have more family time.
Adrienne Weaver
Receptionist
Adrienne has over 30 years of experience in the horse industry. She graduated from Centenary College with a BS in Equine Studies and received her BHSAI while studying abroad in England. She is a MA licensed riding instructor and has worked with broodmares, foals, race horses, and show horses up and down the East Coast. Adrienne enjoys reading, riding her motorcycle, and being surrounded by furry friends!